What Are Gold Loans?
Gold loans are secured loans that are availed after depositing a gold item that is within a range of 18 to 24 carats with any banks or NBFCs. One can borrow up to 80% of the current market rate available on that very day. Gold loans can improve your CIBIL score. In case of gold loans, the lenders are in the safe zones; they have the gold as collateral which gives complete security to the item. The CIBIL score will not be hampered while availing a gold loan. But, defaulting the EMI of a high capital gold loan will decrease the CIBIL score. There are banks and other gold loan lending organizations who have different offers and interest rates. One must always compare and choose the right lender. Also, avoid taking huge gold loans as you should be able to pay the EMI and the monthly interest.
Advantages Of Gold Loans
When compared to unsecure loans like personal loans, gold loans have plenty of advantages. It is a secured loan that strengthens your credit score. You can always avail a gold loan if you have a few golds with you rather than taking personal loans with high interest rates. In most of the household, gold is an idle asset. Women wear gold mostly during occasions like weddings and festivals. But otherwise gold simply sits in a locker either at home or in the bank. Gold loan is an ideal way to liquidate idle assets like gold. It makes optimum use of assets and can contribute to your finances.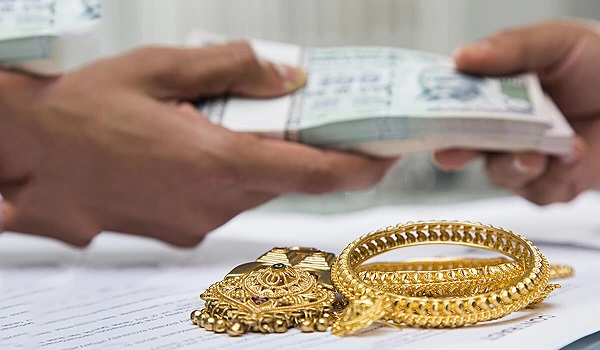 Since gold loans are secure, processing it is really quick and easy. When it comes to gold loans, checking the weight and quality of gold is the only thing to verify. The loan disbursement is quick and easy as it reduces a lot of documentations. Personal loans attract an interest in the range of 11 to 24% as it is non-secure and does not have a collateral. Gold loans have lesser interest rates as the jewellery as collateral is with the bank's custody. Gold loans can serve several purposes. You can use it to your convenience. Like personal loans, you can use it for medical emergencies, marriage expenses, travelling and education. It gives you the flexibility to utilise the loan amount.
You don't require an income slip or a tax document to avail a gold loan which again reduces the disbursal time. Also, no guarantor is required. The banks don't check your credit score for gold loans as you are already providing the asset as collateral. This comes in handy when your loan application is rejected in several places due to poor credit score. This will be helpful if you are looking to improve your credit scores provided you repay on time. Any ongoing gold loan can be renewed easily for another term and loan amount.
Processing A Gold Loan
Processing and disbursal of gold loans are easy though it may differ from lender to lender. There are some proofs required from your end, like passport size photographs, identity proofs like pan card, aadhar card, and voters ID, address proof like passport, electricity bill and driver's license. Interest rates of gold loans also vary from lender to lender and it most commonly ranges from 9.24% to 17%. There is a nominal processing fee of 1 to 3% of the loan amount charged along with the interest. Also, one must check the pre-payment charges and late payment charges with lenders before availing loans. Compare these charges with different lenders before approaching a lender for a gold loan. Gold loans are beneficial in many ways.
Know More About : Understanding Personal Loans And It's Features In India