Education Loan – Why is it so Important ?
A student loan or an education loan can be described as a type of loan that is created to help students pay for their higher studies after high school. The loan often includes provisions to pay for the fees associated with the course like tuition fees and also for books, supplies and other living expenses. The interest offered on student loans is generally lower and the repayment is usually deferred till the student completes their course and lands a job.
Know the basic Features of Education Loan in India
Eligibility:
The student needs to have an admission letter to a graduate, undergraduate or any other educational course either within the country or abroad in order to be eligible for the education loan. The student also needs to be between sixteen to thirty five years of age as well.
Amount:
The loan amount sanctioned by the bank usually depends on the cost that the education will incur. Since overseas education costs are fairly higher, the students need to apply for a student loan after calculating how much money will be required to complete the course.
·Interest Rate:
The interest rate offered by banks on education loans usually vary from 9% to 15%. The EMI for education loans are usually calculated from six months after the completion on the course. This six month period is to help the students find a job and get on their feet once they have completed the course before starting their EMI payments. According to https://www.tatacapital.com/blog/personal-loan/5-reasons-why-indians-are-taking-education-loan, the interest rates are fixed and do not fluctuate, making it easier for the students to pay it off faster. Most civil service coaching centre advise students to consider SBI for student loans because of their low interest rates for students.
Guarantee:
In case you are planning on studying abroad you will need an immediate family member to act as a co-applicant on your loan. Interestingly, many banks offer up to 7.5 lakhs without security to students. This can be a huge stress reliever since students need not go hunting for guarantors as they get ready to start their the next phase of their education.
Tax Benefit:
Student can claim a tax benefit under the Income Tax Act of India. His helps students pay off their education loans faster. This means that the interest that you pay on the loans can be deducted from your tax payment under section 80E. However, it is essential that the loan has been availed from bank or other financial institutions and not from friends or family in order to avail this tax benefit. Parents can also claim a tax benefit when they take up student loans for their children, as long as the tuition fee doesn't cross Rs.150000.
Education Loan – Eligibility and Documents For Student loan
Regardless of where you decide to avail a student loan from, it is essential that you read the fine print before signing on the dotted line. You need to understand all the pros and cons before signing the agreement to avoid getting stuck in a loan that is difficult to pay off. In fact, most of the best NEET coaching centers offer extra counselling session to their students to help them understand the different options available while looking for a suitable education loan.
While applying for an education loan, students need to submit supporting documents. These documents include attested mark sheets, details of expenditure, proof of admissions, bank statement of previous 6 months, scholarship details if any, photographs, ID and address proof. In case the gross annual income of the student's family is lower than 4.5 lakhs, they can apply to be a part of the Central Government scheme that pays interest of the education loan. However, it is essential to submit the income certificate from the local authorities in order to be deemed eligible for this scheme. Once you have decided on which bank or financial institution to approach for a loan, you will need to download their application form from their official website. The next step is to meet with a representative of the back to get further details.
How to Get Education Loan for Higher Studies ?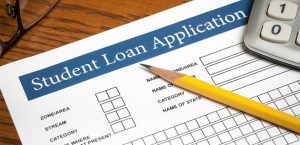 With quality education becoming a deciding factor upon whether or not a person will have a successful career, many students look for the best options available while considering higher education. However, with the climbing education costs, it is not possible for everyone to apply for admission to the college or university of their dreams. This is where student loans can help these ambitious students achieve their dreams. Although many parents strive to save for their children's studies from an early age, at times it might not be enough. With an MBA from a top tier college costing upwards of 20 lakhs, it has become impossible for a middle class family to afford to send their children for higher studies without the help of education loans.
According to the experts in the financial industry, the student is seen as the primary borrower in the case of an education loan. An immediate family member will have to act as a co-applicant in case the loan is for an amount higher than seven lakh rupees. Since education loans covers regardless of whether it is part-time, full-time, vocational, under graduation, graduation, and so on. Although the RBI has not placed an upper limit on educational loans, some banks set a limit in order to reduce their risk factor. Since an education loan is often the first loan in a person's life it is essential that they repay the loan within the time limit to maintain a good credit score. This credit score will come in handy later on in life as they get ready to apply for other loans for building a home or buying a new car, etc.
Education loans at low interest rates have made it possible for students from all walks of life to have a fighting chance for quality education that will help them move forward in life. In fact many successful people today have made it so far with the help of education loans to get into good colleges.
Know More About : Apply Loan Or Credit Card